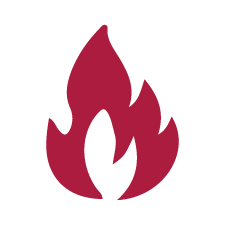 Fire and Smoke Detection
Whenever fire strikes, immediate detection is critical to limit loss. Sonitrol SC excels in early detection and verification of fire. Our systems can monitor your facility 24 hours a day for smoke and heat, and our operators are trained to differentiate between an intrusion alarm and a fire signal. This helps them to quickly dispatch the proper emergency personnel to your location.
Although a fire alarm is almost always required due to zoning regulations, it can be beneficial to go above and beyond and install an entire fire security system in your business. A fire and smoke detection system can help to keep your business from going up in flames.
Not only is a business fire terrifying, but the dollar amount of damages are also often incredible! Even though you may feel it's not likely you'll experience your office burning, it's a savvy move to ensure against it.
Benefits
Fire control services offered by Sonitrol SC include:
Smoke and heat detection
Water flow and sprinkler monitoring
Temperature monitoring for sensitive areas such as freezers
Fewer false alarms
Elevator recall
Duct detection
Our experienced professionals can design, install, service and monitor the best system to meet your company's needs. Our fire panels meet UL, CFSM, NFPS and ADA requirements.